Online advertising remains an efficient solution for making medical spas more recognizable, and SEO for spas remains an integral part here. Still, running Google ads for the first time seems like a big concern for many medical spa owners. People think they need to spend a lot of money to get ads on Google, but they are wrong. Healthcare Google ads require you to walk through several steps to promote successful medical spa advertising. What exactly are these steps?  
How paid traffic can help your business?
When a business purchases targeted web traffic, they receive the ability to improve the website's online visibility fast and hassle-free. Additionally, paid traffic works to allow you to involve more target audiences directly in your business. This, as a result, helps you improve conversations that enable companies to boost their online sales. However, it is essential to know what to do once you buy traffic. Refer to the experts to tell whether paid traffic will specifically suit your affair.
What should you know about med spa Google ads?
If your goal is to get as much target audience as possible, Google is something to consider. Essentially, there are two types of Google advertisements. The first goes to the Google display ads and can be recognized by the gray inscription ADVERTISEMENT on the top. The second option is the Google search ads that occur at the top of the Google results that a small word AD can identify near a website's link. Additionally, Google display ads allow businesses to be more flexible, offering multiple design considerations, including graphics, descriptions, and titles. At the same time, Google search ads consist of things like a link, a headline, and a description.

Decide on budget
Before engaging in digital marketing for spas, you need to outline the exact amount of money you are ready to spend on any activity generated by Google ads. Once you know your budget, you will make better decisions and distribute a budget according to your needs. However, keep in mind that this amount of money should be sufficient to get a profit from a business. Since you probably want to make investments work on you, you need to spend a specific amount initially.
Set up campaign
This step requires you to have a Google Ads account, so it's time to get it for your business if you don't have one yet. Setting up your first campaign is essential for medical spa advertising. You can do this by mentioning the key details about a campaign and setting the title for it to avoid getting confused among several projects. You can also determine a goal for your campaign, but if none of the items suits, you can omit a clause to set a goal.
Organize your campaigns
You can create more specific ads at the expense of organizing your campaigns. Generally, there are two primary levels. The higher level refers to the name of the campaign, and the lower one is known as the ad group. Each ad group includes a specific keyword list. Besides, you can organize the ads depending on the areas of your services. The services can be separated into face lifting, skincare, or others. It is worth mentioning that if a consumer seeks face lifting services, they won't see your ads related to skincare. You can avoid cases where your potential clients think you don't offer the services they are looking for.
Select the campaign type
If you want to know how to create a Google ads campaign for a healthcare company, you firstly need to select a suitable type of campaign. They essentially differ for structure and placement over the net. If you prefer search engine ads, your medical spa business can appear on the first page of search engine results due to these ads. You need to be aware that search engine ads consist of a headline, a URL, and a description. At the same time, Google display ads incorporate media into advertising, and you can select suitable graphics, logos, and headings from a list offered. This kind of Google ad enables businesses to be more versatile.
Set up your target audience
Once you set up the target audience, you can ensure that your aesthetic ads will be shown to potential clients. The ads for promoting your med spa can become more targeted for the audience if you set the particular geography, age, and other indicators.
Set your bid
The next step on how to promote your health care business on Google ads is to base your ads according to the budget for an account. You need to divide the budget into the ad groups and see how you will fare. In addition, the goals for your med spa affair will change over time, and your bids for ad groups will change as well. Reallocating the resources is helpful once you notice that ads groups are going bad.
Use the right keyword
Keywords are significant in medical spa SEO since your audience will see them in a search engine. Your goal is to ensure that keywords are relevant enough in terms of the ads. If you doubt whether keywords are suitable for the ads, you can utilize Google Keyword Planner. It is a helpful tool for selecting the right keywords.
Create a landing page that converts
You can deal with this task by creating a relevant page designed for your ad groups. The key is to keep things simple to avoid too long page loading as mobile users are likely to close a page once it loads for too long. Don't forget to incorporate eye-catching call-to-action buttons to attract as many potential customers as possible.
Get the results you always wanted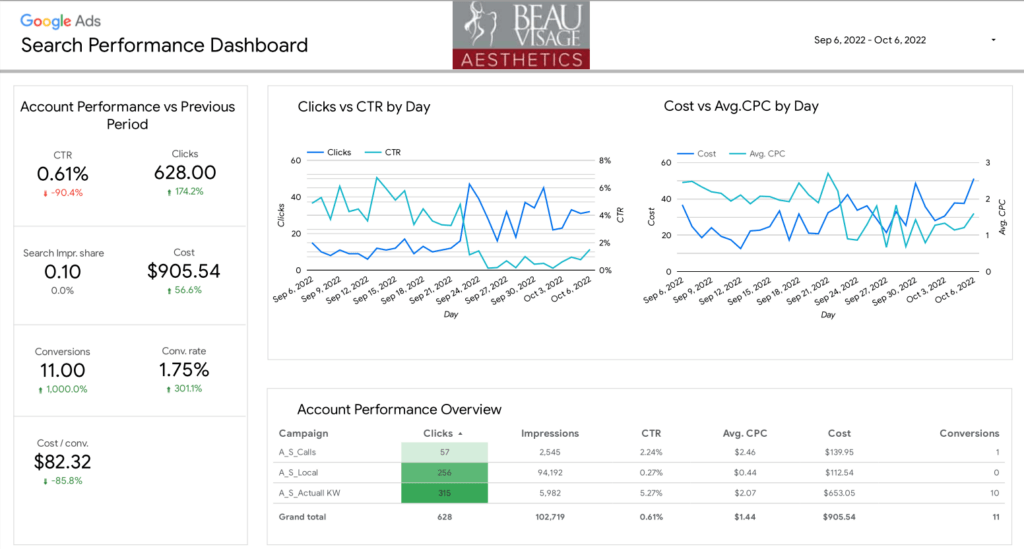 More about WMS clients' results can be found at Case Study: BEAU Visage Aesthetics page.