Case Study: Cherry Road Technologies
Client:
HopOne Technologies
Increase in organic traffic
Increase in organic 

keyword rankings
HopOne is now a part of Cherry Road Technologies providing cloud-connected colocation for multiple clients. "In addition to the security and infrastructure of the site, the most important selection factors were customer service, cost, and reliability. You provided exactly what we wanted." – said about company Howard Epstein, CTO, Standard Technology. Being on the market for 20 years, HopOne remains the trustworthy partner in delivering highly-secured and scalable hybrid infrastructure.
This company involves customization that allows them to select the right hosting decisions for every customer. The professional approach stands out as expert consultation in assessing the cost, process, and time while migrating your customized applications.
The services provided by HopOne start from colocation services and cloud hosting to managed services and dedicated servers. The advanced connectivity guarantees the truly hybrid cloud network and 3 Internet exchange points while HopOne`s capabilities incorporate hybrid colo & cloud and private suites and cages. Using the services of this provider, you can be sure that you get high security and the best IT offers.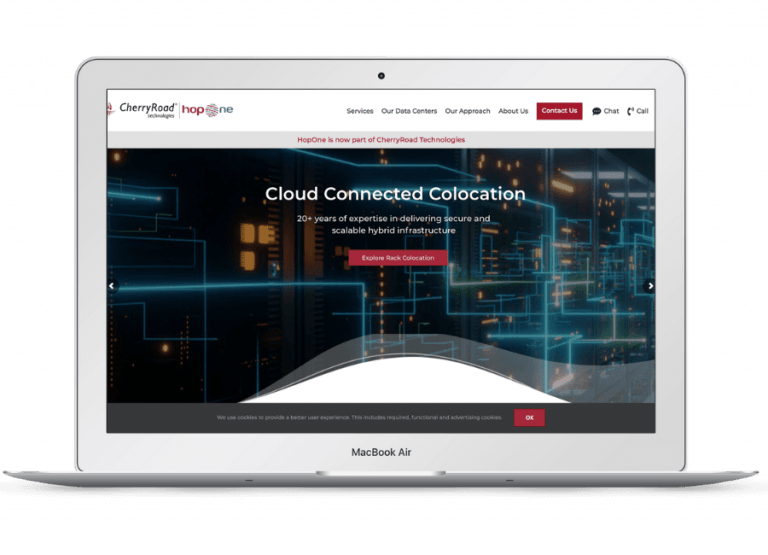 The website of HopOne is well-structured so clients can easily find a solution to meet their needs. A notable feature is that a customer can connect with the team immediately via chat or call.
HopOne is an experienced leading cloud hosting provider who has cost-effective and profitable propositions for any IT issue.
Search Engine Optimization Strategy for HopOne Technologies
A site audit incorporates several actions that reveal crucial factors that affect the website's visibility in the search engine results.
Website content optimization is required to engage with your target audience and expand the client base.
Competitor analysis is a tool that defines the primary weaknesses and strengths of the business opponents. This knowledge is essential to build an effective marketing strategy.
SEO-friendly FAQ pages appear a great approach to gain more organic traffic at the expense of publishing illuminating materials on a website.
Page speed optimization works well to make website page download faster. This factor influences the user experience and search engine rankings.
Thanks to other online platforms, outreach guest posting is an essential tool to expand your potential audiences and promote your brand.
On-page optimization is in charge of making your content most relevant to meta-descriptions and tags. It is vital for improved website rankings.
Google Analytics Results of Cherry Road Technologies